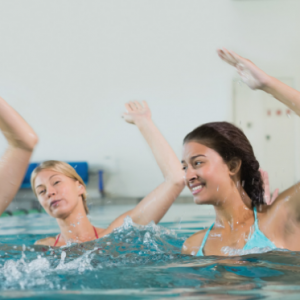 Horsham Aqua aerobics (also called water aerobics and aquafit) is a form of exercise which provides cardiovascular conditioning, increasing your pulse and your breathing rate. The term "aerobic" actually means "with oxygen". … Horsham Aqua aerobics also helps to strengthen the body because the water offers resistance
Is water aerobics good for weight loss?
Yes, Horsham water aerobics is excellent for losing weight. It provides a good cardio routine, and, as we all know, cardio is very important for weight loss, while the resistance water provides only further enhances all your weight-loss efforts.
Is Horsham Aqua Fit a good workout?
It gives you a good cardiovascular workout, gently increasing your pulse and breathing rate, so it's great for helping to improve your heart health. It strengthens and tones muscles – the resistance of the Morriswood Horsham pool water means that opposing muscle groups are worked in each movement as you push and pull against it.
Horsham Aqua aerobics is a beneficial all-over workout with a lower risk of injury than its land-based equivalent. This form of water exercise is also suitable for people of all ages, including older people, and can quickly improve your overall fitness.
Horsham Aqua aerobics / Aqua fit is good for:
burning calories and losing weight
working all the major muscle groups
all-over toning
improving your balance and co-ordination
people with mobility problems
people with physical restrictions
relieving stress: the water massages you and the feeling of weightlessness can be very enjoyable.
What to expect from an Horsham aqua aerobics class?
You can find aqua-aerobics classes at many municipal swimming pools and leisure centres, as well as at many spas. You'll need to bring your swimming costume, of course, but you don't have to be a strong swimmer. You'll be able to keep a foot on the bottom of the pool at all times. Many classes do not require you to swim at all, just move in the water, but check with your teacher if you're concerned. You may be able to use a buoyancy aid if you prefer.
A typical Horsham aqua aerobics class will include:
a short warm-up to get your body used to the water and your muscles ready for exercise
cardiovascular exercises to get your heart pumping, such as jogging, leg kicks, body twists, arm stretches, and other dance-like movements
balancing exercises
co-ordination exercises
stretches
a cool-down at the end to avoid injury.
Some Horsham. aqua aerobics / Aqua Fit classes may incorporate props in their workouts. These could include webbed gloves, ankle weights or dumbbells for added resistance, and floats for buoyancy.
Horsham Swim School pool is hired by a third party to run the  Aquarobics classes and you would need to contact Michelle directly to book  full contact details below.
https://strongertogetherfitness.co.uk/aqua-aerobic-classes/
Michelle Coward on 07813 791098