November 2020
Our swimming pool at Morriswood was refurbished during the November 2020 Covid19 lockdown.  4 new changing rooms added, 2 new  additional showers added, and a secound additional toilet added.  More space also created on pool side for parent and child changing.
October 2020
On the 16th October 2020, the "Word Health Organization"  publically stated that COVID19 cannot transmit in swimming pool water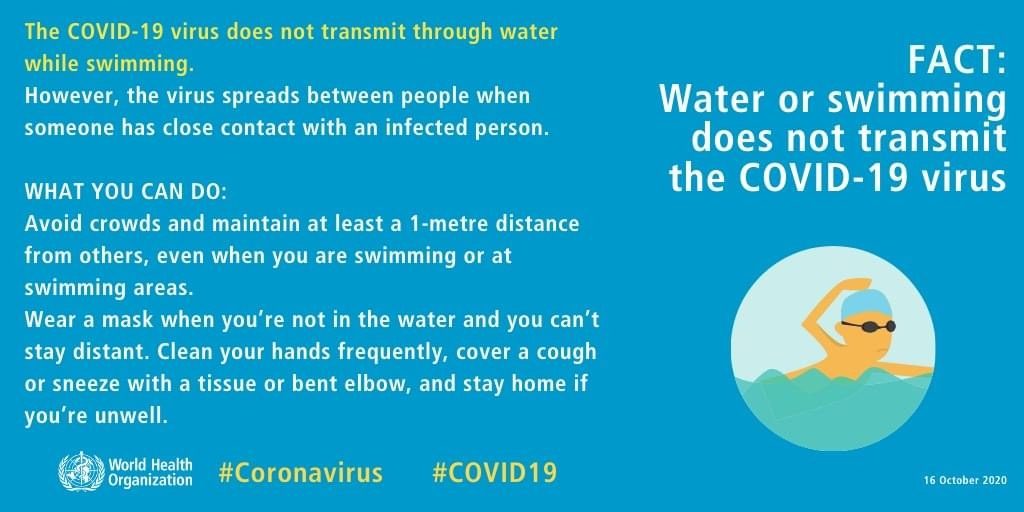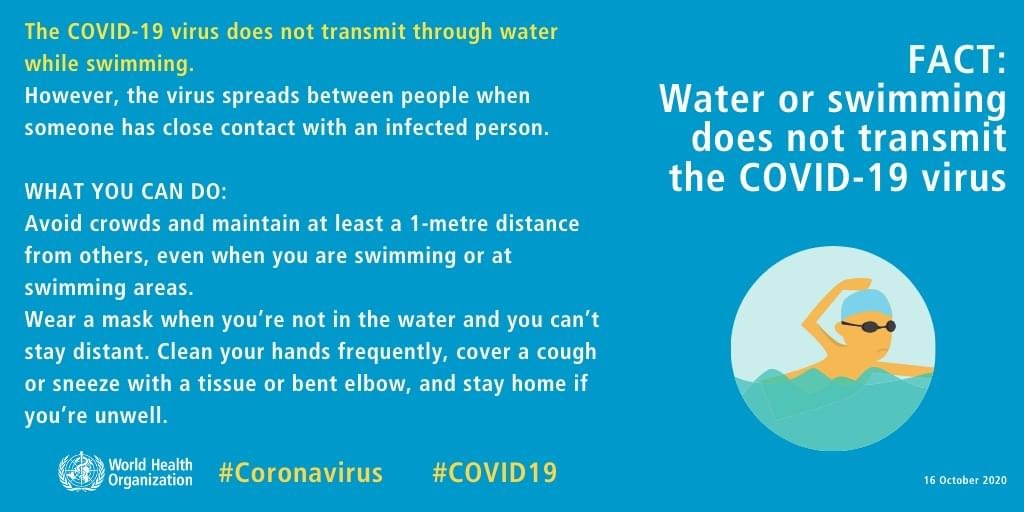 July 2020.
Horsham Swim school is now an award winning swim school, we  are delighted to confirm that we have just won a "Best parent and child Swim School award. "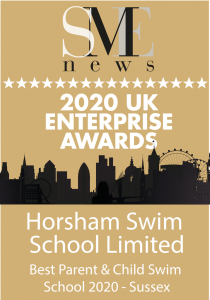 June 2019
In association with the RLSS  , Horsham Swim School provided  a water safety lesson as part of RLSS Drowning Prevention Week. Each year we run these important safety classes in June as part of our normal Horsham Swimming lessons.  We get great feedback from parents.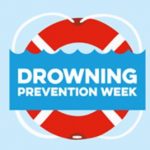 www.rlss.org.uk/drowning-prevention-week
May 2018
Two of our teachers Sharon and Sarah work closely  with the Dame Vera Lynn Charity at our pool in Morriswood Horsham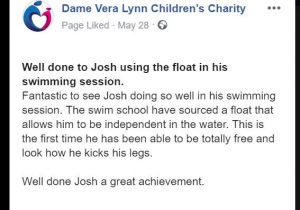 May 15th 2019
Every 2 years our Horsham Swim School swimming teachers have to re new their NRASTAC teacher rescue test .
Well done to Jackie, Sharon , Sarah , Lizzie , Clair and Kerry for passing last night !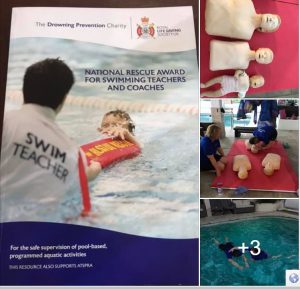 March 2019
Lizzie one of our wonderful teachers at Horsham Swim School is now teaching Aqua Natal Yoga in the pool at Morriswood.  Get in touch with lizzie directly if you are interested?  Yoga classes are a Friday night 7.15pm onwards.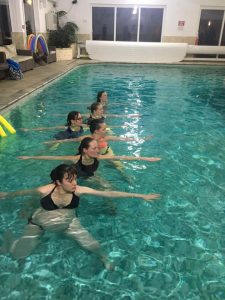 January 2019
So with temperatures not set to rise much above freezing all week it's good to know that our pool at Morriswood Horsham  is a constant 33.8 degrees. Did you know our swimming pool temperature, chlorine levels and Ph levels are checked and adjusted continuously by computer.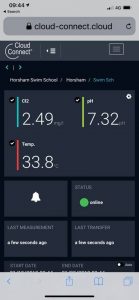 November 18
During  November four of our teachers attended CPD training courses.  Sharon and Lizzie attended birthlight teacher training courses designed to show swimming teachers the very latest in Elective Submersion techniques for babies and Clair and Kerry both attended NRASTC teacher rescue and first aid courses.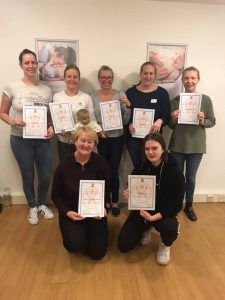 June 2018
Over 700 people drown in the UK and Ireland every year and many more suffer injury, some life-changing, through near-drowning experiences. Horsham Swim School  are supporting Drowning Prevention and during  June  swimming lesson classes will be based around this, every child will get a certificate to confirm that they have attended. #STOPDROWNING #DPW. To find out how you can get involved visit – www.watersafetyeducation.org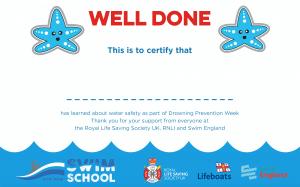 May 2018
Horsham Swim School instructors  have now started a swimmer of the week award scheme to celebrate the success of some of our amazing young swimmers.  Each Childs parents is allowed to take a picture with our Horsham Swim School photo frame, note we only share these photos  with parents full permission they are primarily for parents to use for themselves.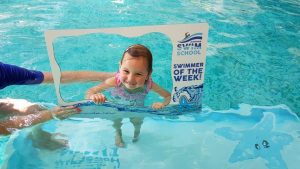 April 2018
Some fabulous swimming progress made this week. Well done to all the children that took part in our Easter crash course.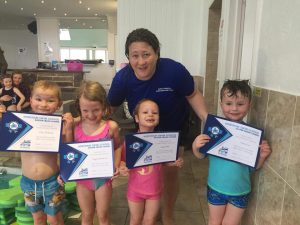 February 2018
Chris our gardner has been doing an excellent job of keeping the car park clear.  We have got through over 200kg of rock salt in the past week keeping the driveway clear and the road outside treated.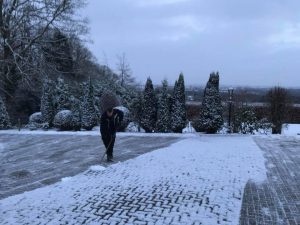 National Rescue Award for Swimming Teachers and Coaches (NRASTC)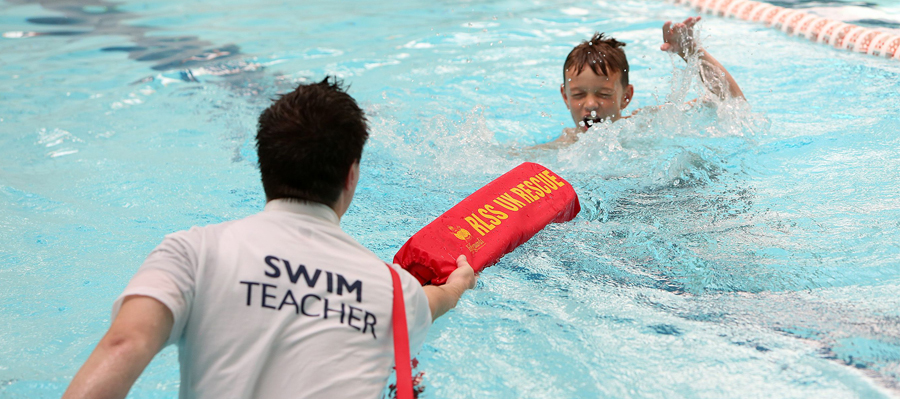 The NRASTC is a supervision and rescue qualification for teachers working on the poolside or in the water during programmed activities, such as a swimming lesson. It is suitable for teachers working in a wide range of swimming pools, including pools where the water is deeper than the teacher's standing depth. On Sunday 25tth February 2018  all our swim teachers came in for  a training session, we run three of these a year at our Morriswood pool to ensure that Horsham Swim School teachers are always up to date with latest policies and they more importantly have practiced what to do in case of an unlikely emergency.
January  2018
Just added two new dates for underwater swimming photo shoots for May 2018 and November 2018, Also we now have the dates for our Easter intensive Crash Swimming course in Horsham set as 9th to 13th April.  Please send us an email to enquire about either of these upcoming events.
December 2017,
Nice editorial about Horsham Swim School in December 2017's Horsham pages and Southwater Life magazine. it mentions that 50% of eleven year olds can't swim 25 meters and that swimming in state schools is failing. Private swimming lessons in small classes really work.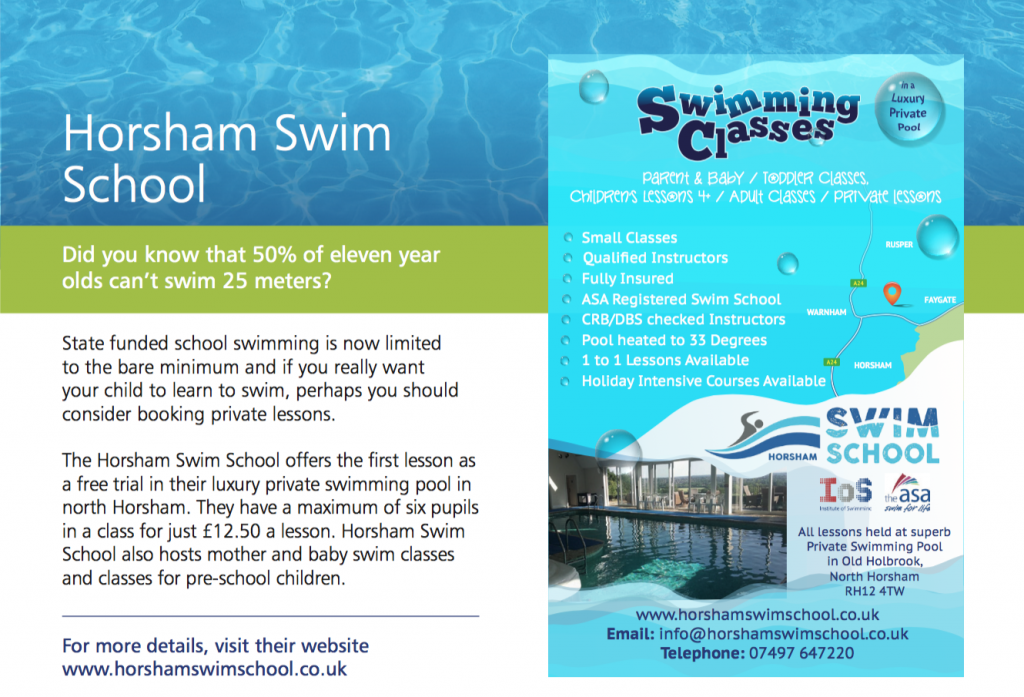 December 2018
Customers of Horsham Swim School are loving the underwater photos.  With so many babies swimming with Horsham Swim School the photoshoot has been really popular.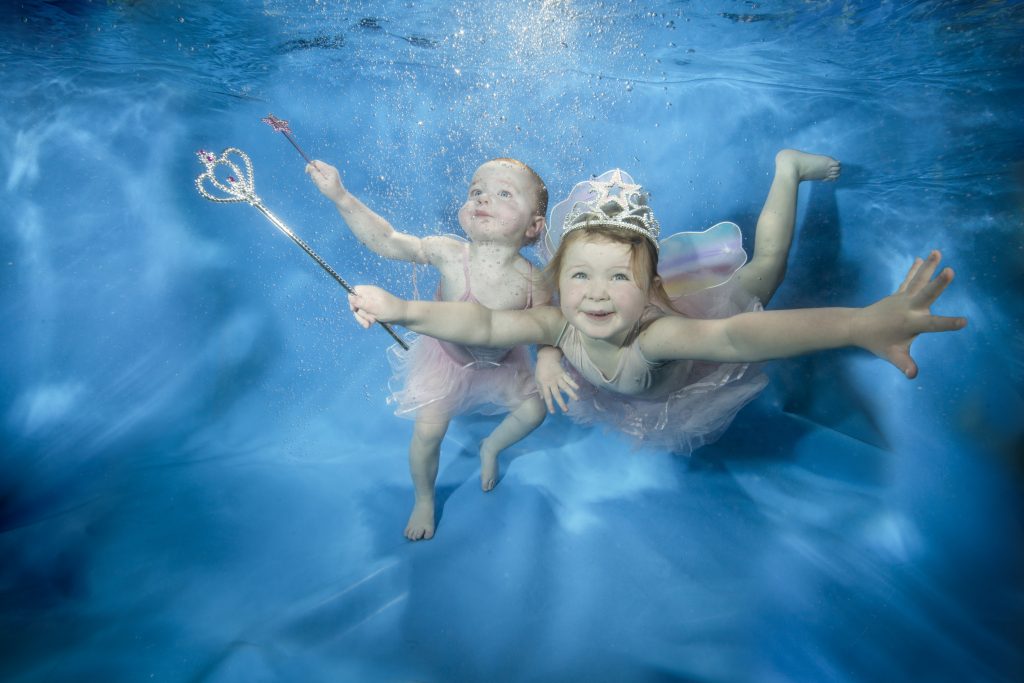 November 19th 2017
Twice a year Horsham swim school has an award swimming underwater photoshoot.  Its a once in a lifetime chance to capture your littles ones  at that certain age.  Its primarily aimed at our babies and younger swimmers.   Our Morriswood swimming pool water is crystal clear and the photos taken at Morriswood are amazing! Do you remember the nirvana album cover baby? Come along to our next photo shoot and you can have one of your own.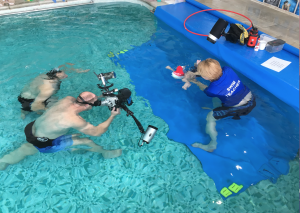 In November 2017 we had a great write up/editorial review of the Horsham in the all about Horsham Magazine.  Click on link to read. All About Horsham Magazine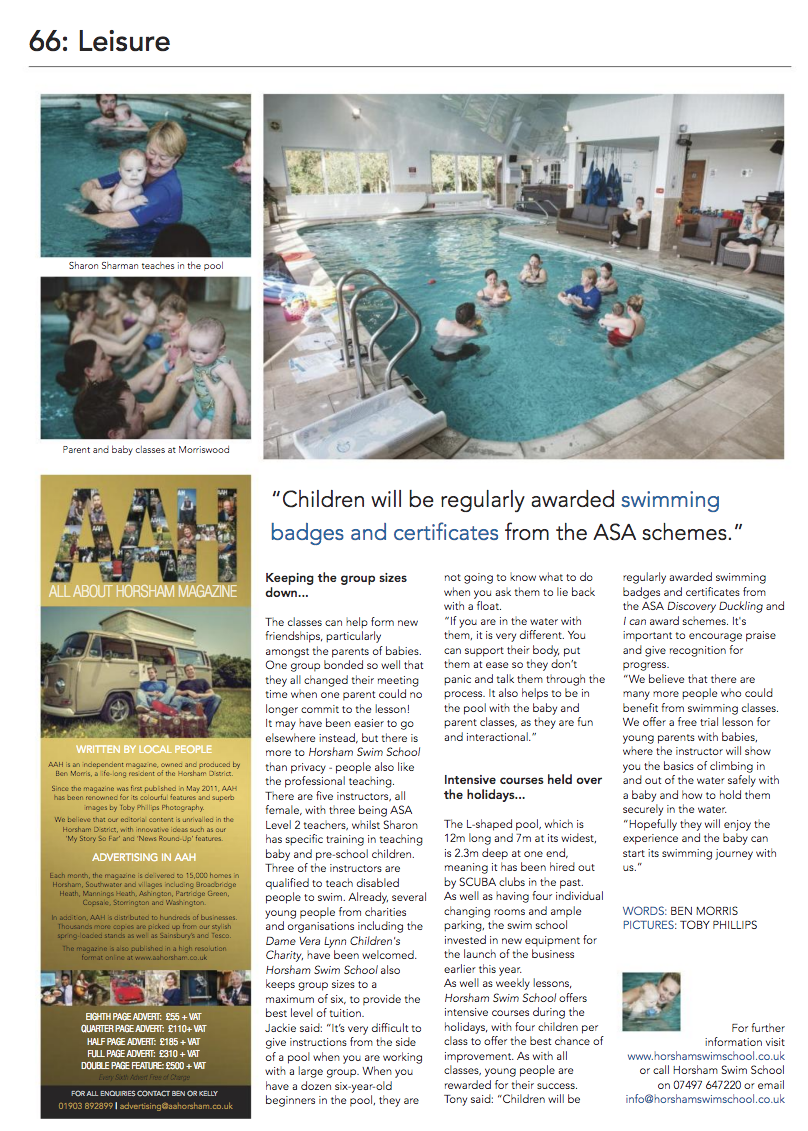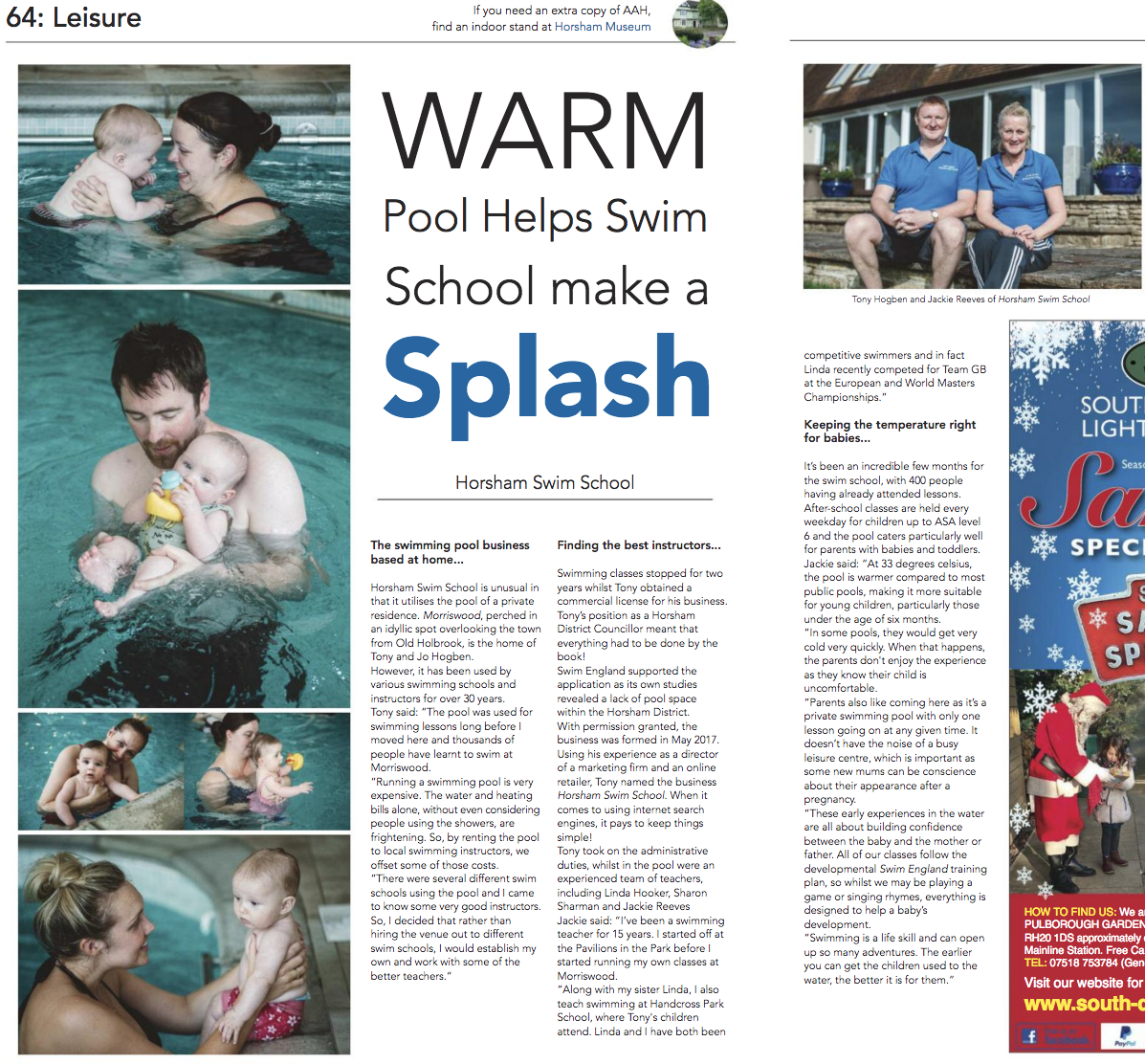 October 2017
Whilst closed for half term building work is taking place changing our extractor fans for modern heat recovery units. According to the sales man these units achieve up to 70% heat retention whilst bringing in fresh air. Link to Ventaxia web site
September 2017
New shower fitted. The shower is used around 600 to 700 times a week ! Imagine the amount of hot water we get through! I know we have used 47,000 litres of cold water in the past month refilling the pool each day.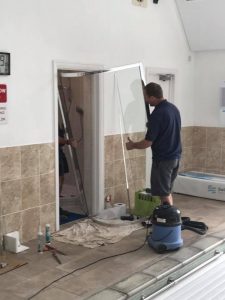 Thank you to all the  Horsham Swim School customers that purchased a cake at our bake sale in September , we raised £328.50 for the British Heart Foundation.
August 2017
Great progress was made on our summer intensive crash swimming course, We hold these twice a year during the summer holidays and Easter holidays, if you are thinking of booking for next year please let us know, Every student received a certificate.
Linda Hooker one of our outstanding swimming teachers represented England and the world masters swimming tournament in Budapest.
July 2017
We have been approved as a recommended swimming provider by small steps!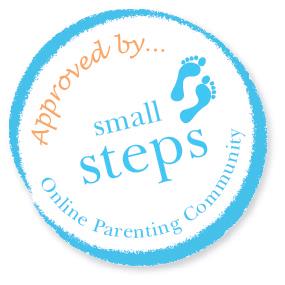 In July 2017  The Horsham Swim School  purchased a custom made box to make our shallow end even shallower! we have so many strong 3 year olds swimming with us that we felt the need for longer box! Well done to all our 3 and 4 year old independent swimmers!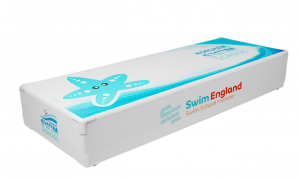 To keep in touch with all the latest news from the Horsham Swim School please follow us on facebook.