Baby Swimming Lessons from Birth!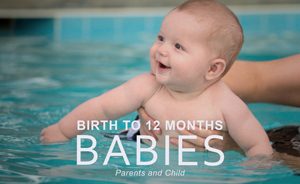 Did you know that you can take babies swimming from birth?  Don't take our word for it check out the  NHS Web Site yourselves.
Mothers and babies will love our baby pool it a toasty warm 34 degrees! if you have  a newborn baby please check out our Newborn page
Your baby will be developing and learning, from building confidence and strength to nurturing co-ordination and language skills.  You will have the pleasure of seeing your baby having a whale of a time, whilst simultaneously strengthening that bond between you.  These Horsham Swim School sessions are a great way to make friends too – plenty of our groups meet up away from the pool.
After spending so many months suspended in fluid in the womb, it's not surprising that babies have a natural affinity for water; in fact, floating in a warm pool will feel more familiar to them than being on dry land.
This confidence in water can diminish as babies get older, possibly leading to fear. This is one of the main reasons we believe it's best to start swimming as early as possible — even from birth. And starting early, especially when including underwater swimming, means it's especially important to understand and work with the natural reflexes. Underwater work is an important and exciting part of our courses. However, it only constitutes a tiny proportion of the work we do: about 95% of the lesson takes place on the surface, and underwater swims only ever last a few seconds.
When you want your baby to start lessons is very much up to you and what you feel comfortable with.  Some parents like to wait until their baby has had their first set of immunisation jabs, but this isn't a requirement. Information about immunisations is available on the NHS Choices website.
What do Baby Swimming lessons in our baby pool involve?
Horsham Swim School run small classes with a maximum of eight babies – this keeps our classes sociable, but also allows us to give you individual attention.  You and your baby will be in the water with our instructor, who makes the lesson all about having fun.  Although enjoyment is at the heart of what we do, your instructor will be following a highly evolved developmental Swim England training plan to ensure each baby is individually progressing over the 12-14 week course.  We gently build baby's confidence in the water with fun exercises and eventually your little one will learn to be comfortable on and under the water.  Seeing your baby laughing and splashing in the water really is an incredibly rewarding experience. Older children will be regularly awarded swimming badges and certificates from the Swim England's  and "I can" award scheme.
this examples of when award are issued are
The Awards are, I CAN…
…enter the water safely
…jump in
…float on my front
…float on my back
…roll over
…blow bubbles
…swim
…enter, turn, return
…exit safely

Horsham Swim School  Pre-School Framework, Confidence, and Awards
The key focus areas of the Pre-School Framework are:
Giving children confidence from the word go.
Teaching the core skills needed to learn the four strokes through fun and games
Please understand that whilst our sessions are fun they are about teaching your child to swim from an early age, unlike some of our competitor's Swim Schools we have a structured programme where every session is designed to develop  a core skill.
Developing Duckling Awards for babies 0m to 24m old. 
These Horsham Swim School  Pre-School Framework Awards are perfect for babies from birth (subject to Health Visitor advice being followed). They are also perfect for pre-school children who are new to swimming.
Usually parents or carers will attend swimming lessons with their babies or young children and join them in the water. This helps to provide reassurance for the child and gives the parent or carer the confidence in assisting their child in the water.
Five separate Awards are available which begin with an introduction to the water and swimming environment through fun and games.
How and When do we hold baby swimming lessons?
Horsham Swim School  sessions last for 30 minutes and we hold classes each week The overall course lasts either 10, 12 or 13 weeks – this coincides with school term times, so there are 3 a year with breaks for half-term. For details of term dates, see our calendar.
What age range do we teach?
At Horsham Swim School  we teach babies from birth . For our older, pre- school aged children aged 2 to 4  we offer our "Junior Ducklings " award scheme.
Junior Duckling awards for toddlers 2 years to 4 years old.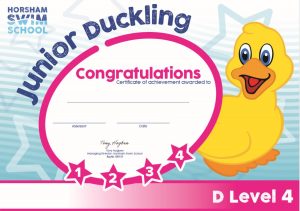 I'm worried about my baby's skin, do you use many chemicals in the pool?
Horsham Swim School  use UV filtration to clean our pool which means that we can keep our swimming water pretty pure and crystal clear . We monitor our PH levels  continuously by computer and we only add a small amount of chlorine – in fact the chlorine levels  are about the same as drinking water.  We are the only private swim school in this area with UV filtration.
I've never taken my child swimming, I am worried that I don't know what to do!
Please don't worry that is the teacher's responsibility to show you! The lessons are just as much for the parent as the child and you will both learn together.
What if my baby is not happy?
Again, no need to worry the teacher will guide you what to do. It can sometimes take them a while to get used to the new environment and sensation. Just take it slowly and take notice of the signals that the baby is giving you. They will soon build confidence if allowed to proceed at their own pace.
Baby Swimming sounds great, sign me up!
Fill in our online registration form and we'll get in touch to confirm available dates and times.  If you prefer, you can give us a call on 07500 808898  but please appreciate that we may be in the water so we may have to return your call a little later. You can also email us with your query, our email address is info@horshamswimschool.co.uk.  Payment is in advance and is due at least a week before the course begins.
Our lessons are booked for a term at a time (10-14 lessons depending on the term.)  We offer a free trial lesson so you don't need to pay anything to pop along and try us out. We strongly encourage you to come along and see for yourself just how good our lessons are.  To book your free trial please click on the link below.
Happy Nappy is a must for baby swimming!
Every baby needs a reliable swim nappy and a Splash About's Happy Nappy is the only swim nappy we insist upon. There is a wide range of designs and sizes for boys and girls, it's the only safe way to stay clean and get noticed in the pool. This happy nappy is worn over the top of your standard disposable swim nappy and must be worn to every swim lesson.