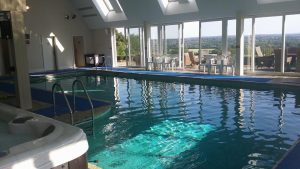 Easter and Summer holidays only.  Please note we are closed and do not hire pool out over Christmas holidays. 
School holidays Pool private hire £15 to £30ph depending on numbers of Guests.
Our lovely private swimming pool in Horsham  is available for hire outside of lesson times and during school holidays. Pool private hire is possible early mornings before 9.00am,  and after 7pm and any time during the school holidays.
Whenever we do not have scheduled swimming classes the pool private hire is available.
A private pool is often much cleaner and more hygienic than local public swimming pools, our pool has the latest commercial grade  filters.  You will struggle to find a swimming pool with better water quality in the UK.
Our  5 x 12 meters heated indoor swimming pool, situated in the beautiful Morriswood north Horsham is perfect for swimming with babies, children and families. . The air temperature is 29 degrees or above and the swimming pool water is always over 33 degrees so it's always like a tropical oasis even in the middle of winter.
We charge a flat rate of £5 a person with £15 an hour minumum charge and a max of £30 a hour for up to 12 guests.
So if twelve of you renting its £30 per hour , if just a family of four renting its just £5 x 4 = £20 per hour.
Rental costs for pool for an hour.
1 Guests,   Sorry no solo swimming is allowed
2 Guests  £15 minumum charge applies
3 Guests £15 minimum charge applies
4 guests £20
5 Guests £25
6 Guests £30
6 to 12 Guests £30
The location of our private hire swimming pool is Morriswood, Old Holbrook, Horsham RH12 4TW
if you are interested in booking please email info@horshamswimschool.co.uk
On the 16th October 2020, the "Word Health Organization"  publically stated that COVID19 cannot transmit in swimming pool water