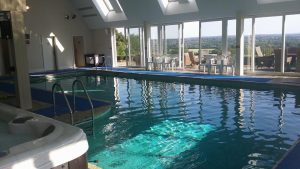 Pool private hire
Our lovely private swimming pool in Horsham  is available for hire outside of lesson times and during school holidays. Pool private hire is possible early mornings before 9.30am, lunch times and after 6pm and any time during the school holidays. Whenever we do not have scheduled swimming classes the pool private hire is available.
A private pool is often much cleaner and more hygienic than local public swimming pools, our pool has the latest commercial grade  filters.  You will struggle to find a swimming pool with better water quality in the UK.
Our  5 x 12 meters heated indoor swimming pool, situated in the beautiful Morriswood north Horsham is perfect for swimming with babies, children and families. . The air temperature is 29 degrees or above and the swimming pool water is always over 33 degrees so it's always like a tropical oasis even in the middle of winter.
Prices are based on six guests, however additional guests can be added for £2 a person extra.
Our prices start from just £30 for up to six people so that work out at just £5 a person! with each extra swimmer charged at just £2 a person if you have above six persons swimming  our prices are cheaper than local leisure  centres. Price is £30 for a 45 minute swim or £40 for a hour.  Children under 3 are free and do not count as part of the overall numbers.
The location of our private hire swimming pool is Morriswood, Old Holbrook, Horsham RH12 4TW
if you are interested in booking please email info@horshamswimschool.co.uk