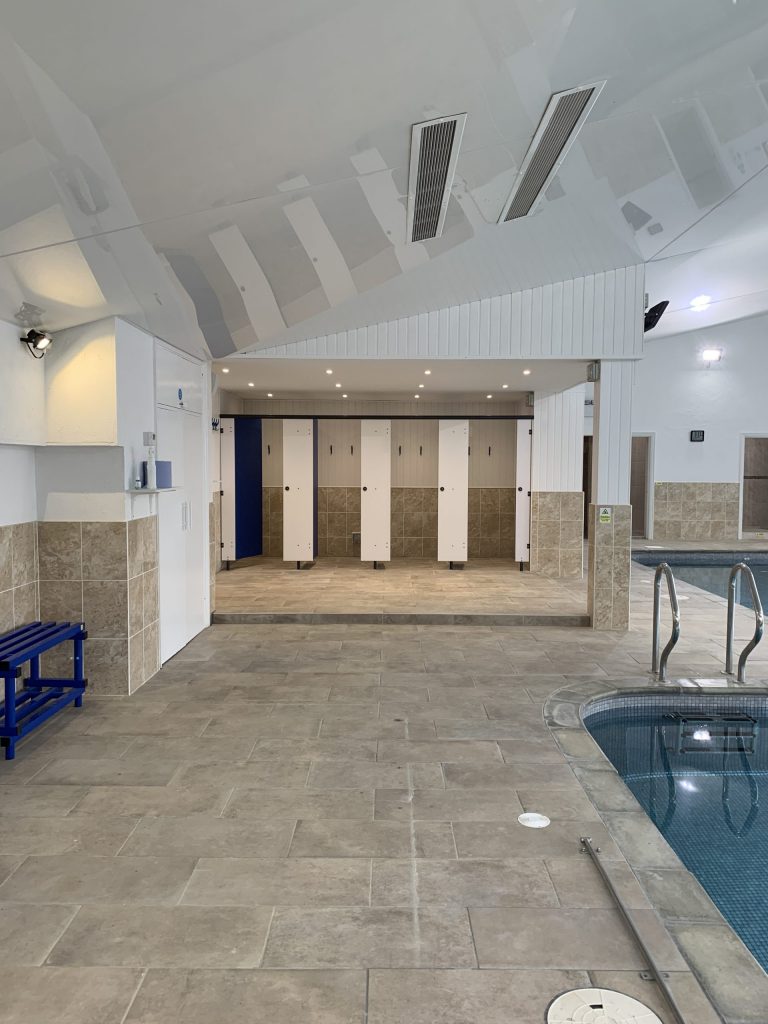 School holidays/Bank holidays family swimming Pool hire in Horsham from £25ph.
All bookings are made online contact free.  Bookings can be made up to 12 months in advance. 
Term time swimming pool hire bookings
School holiday/Bank holiday swimming pool hire bookings  from £40ph
Christmas school holidays  Monday 18th December to Monday 1st Jan £40ph 
Easter school holidays 30th March to 12th April £40ph
Bank holidays 26th December and 1st Jan are £50ph 
Easter bank holidays good Friday 29th March and Easter Monday 1st April are £50ph, 
Link to check availability online.
Please be aware that pool hire is exclusive for your family or group, however our staff i.e. cleaners and or swimming teachers might be on site setting up/ cleaning up after lessons  and other customers might well arrive during your hour to get changing for their time in the pool.  You have exclusive hire of the pool but not the whole building. 
Exclusive pool use for 60 minutes and total privacy for around 45 minutes.
Customers are allowed to 5 minutes early to get ready for their hours private hire and requested spend no longer than 10 minutes getting changed after their session.  Please respect the privacy of other groups and ensure that you wait outside if you arrive early and aim to leave to pool at promptly as possible after you hour hire slot.
Our lovely private swimming pool in Horsham  is available for hire outside of lesson times and during school holidays. Pool private hire is possible early mornings before 9.00am and after 7pm on weekdays, after 6pm on Saturdays.
Our private Swimming pool rental in Horsham is often much cleaner and more hygienic than local public swimming pools, our pool has the latest commercial grade  filters.  You will struggle to find a swimming pool with better water quality in the UK.
Our  5 x 12 meters heated indoor swimming pool, situated in the beautiful Morriswood north Horsham is perfect for swimming with babies, children and families. The  pool water is always over 33 degrees so it's always like a tropical oasis even in the middle of winter.
Private Pool Hire in Horsham Prices
Price:- 
Base cost is £25 per hour weekdays early morning for up to 4 persons. 
Base cost is £40 per hour for weekends/school holidays   for up to 4 persons. 
Base cost is £50 per hour for Bank holidays / peak rate. 
Each extra person over four is £4 each. 
Note these prices are for private family hire not commercial use, commercial use is charged at £50ph and commerical use or large groups over 12 persons  use needs to be booked via telephone or email only.
What are the cheaper off peak times?  When can I rent for Just £25ph? 
Off peak times are weekdays, 7am to 9am. 
Health and Safety
It is a requirement of hire that everybody that hires the pool reads the Normal  Operating Procedures  (NOP'S) and Emergency Operating Procedures (EOP'S)  for Morriswood Swimming pool Please click here to read NOP and EOP's
No food or drink allowed
No running on pool side
Adults must go into the water to supervise children
Shower before entering the pool.
No alcohol or any person that has consumed alcohol in the past six hours is not allowed to swim.
Use the protective blue overshoes provided
No diving.  
Read and obey all signs
Don't leave children unattended/unsupervised at anytime.
No parties or groups larger that 15 without  written permission.
Pool must be left clean and tidy how you found it.
Solo swimming is not allowed minimum group size is two persons.
All private hires must be in possession of a mobile phone to call emergency services if an accident occurs
No lifeguard is on duty. You must watch  your own children. 
Once you have read the NOP's and EOPs and wish to book please click  link below, if you wish to book more than one slot you can add the first time to the basket and then click the back button on your browser and add more dates and they pay for all bookings in one go.  Its a shopping cart type booking system that assumes you are just going to book one slot but it does work to add multiple bookings to the cart at once.
Swimming Pool Private Hire
In the event that we are not legally allowed to open at Easter all customers will be offered  refund or priority  choice of bookings for the next school holidays.
Cancellation policy
Bookings cancelled more than 7 days in advance will receive a full refund.
Booking cancelled less than 7 days to 48 hours in advance will receive 50% refund,
Bookings cancelled less than 48 hours in advance is zero refund.
Commerical pool hire in Horsham
Note commerical hire is charged at £50ph, if you wish to hire the pool for anything else other than family or group swimming please conact us by email info@horshamswimschool.co.uk
On the 16th October 2020, the "Word Health Organization"  publically stated that COVID19 cannot transmit in swimming pool water