Swimming pools pose very little threat to you or your child's health & safety. Filter systems efficiently remove unwanted matter while chlorine kills practically all germs. In fact, your home bath and bath water are more likely to make you ill. Remember also that water is not the only way that bacteria and viruses are transported. Many germs travel through air, while others are transmitted through person to person contact. At least in the pool, the majority of water born germs are at a disadvantage because of the chlorine's instant killing effect.
There is a lot more information on health and safety on the swimming pool owners web site.
We ask that you respect our precautionary health rules and refrain from lessons if your child is suffering from any of the following complaints:
Fever
Cold Sores
Conjunctivitis
Impetigo
Urinary Tract Infections
Vomiting and diarrhoea (within the last 48 hours)
Ringworm
Before your lesson with Horsham Swim School
Please ensure your child takes a shower before entering the pool.
Wear appropriate costumes – whilst really cool, Bermuda shorts are not ideal as they "balloon" with water, and then cause "drag" which makes it harder for your child to swim in – keep them for the beach!
Hair – please ensure all long hair is back and off your child's face. Hats are preferable, but not compulsory.
Jewellery/Earrings – please remove all jewellery before swimming, including pierced earrings.
Food should not be consumed at least an hour before the start of the lesson.
Please remove any plasters before coming on poolside. Plasters will come off in the water and block the filters in the pool.
A verruca sock should be worn by your child if they have a verruca to prevent the spread of infection to other children.
Goggles – are great for children as they can see clearly under the water. However, within the ASA National Teaching Plan, there are certain points within the criteria where the pupil is required to open their eyes under the water and identify an object, or retrieve an object with their eyes open, without goggles on. Therefore, to prepare pupils, we will regularly remove their goggles.
Swimline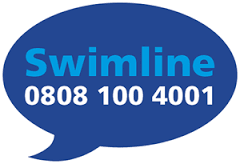 The Amateur Swimming Association and Horsham Swim School  are committed to promoting the welfare of children in our sport. The ASA have joined with the National Society for the Prevention of Cruelty to Children to form Swimline.
The ASA's "wave' child protection policy

The Horsham Swim School and all of it's teachers are fully compliant with Wave Power, the ASA's child protection Policy and Procedures. We are totally committed to the principles and practice of equal opportunities for every child. Every child deserves to be taught how to swim.
The Royal Life Saving Society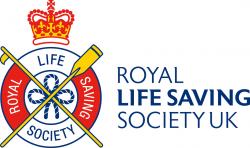 All of our teachers hold The Royal Life Saving Society's Teachers Rescue Qualification. We re-sit the exam every two years. It is important to keep our qualifications up to date.
All of our teachers attend The  Emergency First Aid at Work course and hold current, valid certificates. We believe that our teachers should be as qualified as possible and be able to provide pupils with any first aid assistance they may require.