Our last 2018 underwater photoshoots  is on
Sunday 11th November 2018 – 09.00-12.00 , photos will be ready by 30th November in time for christmas cards and gifts!
( this photo was taken at our last photo shoot)
A unique opportunity while your baby or child is at that 'certain age' to have them photographed underwater by one of the UK's foremost specialist underwater photographers – at an affordable price. They also make great christmas presents.
Zac Macaulay has won three international awards in underwater photography.
Everything is designed to be as similar as possible to your usual lesson. Sharon Sharman will act as baby handler on the shoot and there will be a maximum of five babies in the water during your 30 minute session. This gives your baby or child a break between dips and allows your baby or child to feel relaxed while maintaining interest and enthusiasm.
You are welcomed into the water by a meet and greeter then your shoot starts with a light warm up, including a short dip underwater. Throughout we make sure your baby or child is as relaxed and happy as possible. Zac chats with you and shows you the shots in progress throughout your session, working closely with you to get the shots you really want.
The highly trained baby handler on the day will decide how many dips the baby is capable of doing. It might be less or might be more than 3-5 dips. This depends on the health and happiness of baby/child on the day.
Tailored personal image gallery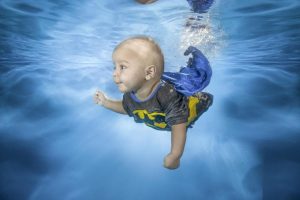 You can buy as many or as few images as you want (from 0 to as many as you want). You pay just £40.00 per baby or child for your session, and then you can choose (there's no obligation) to buy a personal image gallery of digital portraits of your baby or child.
Competitively priced
The shoot is very competitively priced – especially considering that Zac is one of only a very few full-time professional underwater photographers, in the UK and Europe much in demand by advertising agencies, image  and magazines. He has won three international awards in his field.
Price comparison
Something to think about:
We are generally the same price or less than any high street portrait photographer (who is not shooting underwater). We do keep a constant check on this at regular intervals. At our last comparison we are exactly half of the price charged by our main competitor for underwater photos!
Price of digital images.
Images will be available to purchase in digital format on USB memory stick.
Single image is £89
Up to 3 images is £109
Up to 5 images is £129
Up to 7 images is £139
Up to 10 images is £149 (best value) 
Additional image costs £12.00
The price of the photo shoot is £40 for non-swim school customer per child or half price at £20 a child for children that are registered to swim with the Horsham Swim School. we only have 40 spaces so please be quick to sign up.
To register for the photo shoot by completing your payment details for the sitting fee by clicking on the link below.
You can also pay by bank transfer for you sitting but we are not taking bookings without payment for the sitting fee so you need to arrange to transfer the sitting fee asap. Please email if you need our bank details or for existing customers please check your last invoice.
Any customers wishing to pay cash will need to pop this up to Morriswood ASAP to secure a place.